Shacharit 6:00 & 7:00
Mincha Gedolah  13:25
Mincha 18:55
Shiur Gemara (Hebrew) 19:05
Maariv 19:55
Shiurim program see: "Learning"

Shabbat Parshat Eikev (תשע"ט 2019)
Friday
Candle Lighting 18:38
Mincha, Kabbalat Shabbat Carlebach Style 19:00 
Shacharit 8:15 
Sof Z'man K'Sh'ma 9:22
Young Minyan 9:00
Tefilat Yeladim 10:00
Mincha Gedolah 13:15
Shiur by Rav Shemuel Hershler 17:50
Mincha & Seuda Shelishit 18:40
Maariv on Motzaei Shabbat 19:52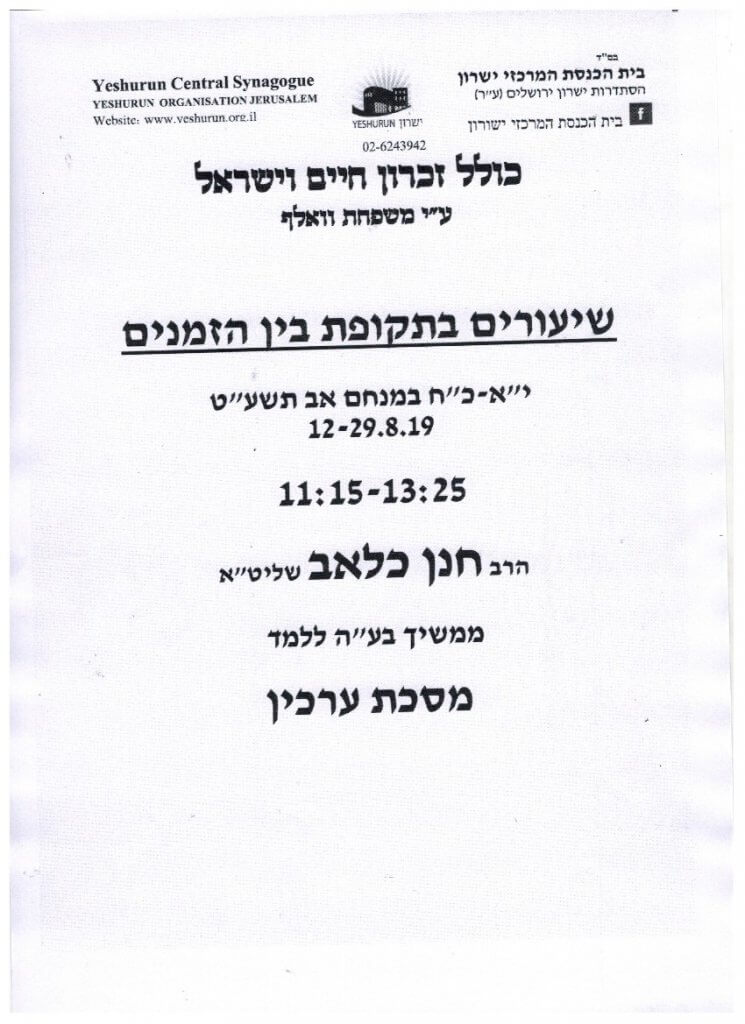 The Yeshurun Central Synagogue, was founded 94 years ago. The Synagogue's doors are open to all Jews, who are welcome to join us for our daily Services, and learning programs. The Yeshurun Central Synagogue is a modern orthodox synagogue. The Synagogue has a unique atmosphere, and the congregation consists of regular members and visitors from Israel and abroad. In Pirkei Avot (The Ethics of our Fathers) Shimon HaTzadik said " The world depends on three things –on Tefilla (Prayer) , Torah Study and Charity. The Yeshurun Adheres to  these precepts. 
Daily Services are held in the main Sanctuary and Beit Midrash, congregants consist of regular members, and visitors from Israel and Abroad. On Shabatot and Chagim we have Services for Young Marrieds and singles up to 35 years old. The Services on Shabatot and Chagim are conducted by the Synagogue Cantor Asher Hainovitz.  The Cantors interpretation of the Teffilot (Prayers) are both beautiful and meaningful. Our learning program in Hebrew for retirees is attended by 250+ students daily.
We have a daily Daf Yomi lecture in English. On Monday morning there is a lecture program in English attended by 350+ ladies. Our Charity fund does not carry any expenses, 100% of all donations is distributed. We hold a Seder for 100 participants, who have no means to make their own seder.
Dear Friends,
At this busy time of scrubbing, cleaning and getting ready for the wonderful Chag of Pesach, I would like to take the opportunity to thank all those who continue to teach, those who come to learn, and of course our volunteers who contribute so much to the successful running of the Shul.
Updates on our programs:
* The young people's Shabbat Minyan in the Berman Beit Midrash continues to draw more people who enjoy starting at 9.00 AM – with the kiddies service taking place at 10.00 AM.
* Daily activities continue with the Wolf Beit Medrash going from strength to strength.
* Our annual appeal for Kimcha D'Pischa is so important for those people who need our assistance, enabling them to provide their families with basics for Pesach!  
* We continue our tradition to provide a memorable Leil Seder (with excellent catering!) for those in need.  And we thank you in advance for your generous support of this time-honored and worthwhile Tzedaka. 
Keeping Yeshurun financially stable is continuing to be quite a challenge.  But with the help, support and cooperation of our members, friends and visitors, I am sure that we will B'ezrat Hashem be able to continue forward.  Encouraging members to remember Yeshurun when preparing a will or testament (more details can be given in full confidence), a donation on a Yahrzeit or special occasion, to have a day's learning dedicated in memory of the departed or to sponsor a Kiddush or Seudah Shlishit is so important!
We must continue to make the Kehilla friendly to all, and we encourage members to extend their hospitality to new members.  If you find a strange face in your seat, don't ask the person to move!  Rather, sit next to them and welcome them!  As we all know, Hachnasat Orchim is a great Mitzvah and vital for the future of our Kehilla.
A big thank you to the members of the Board.  And to Yissachar, David, Chana, Jeannette, Yitzchak, Micha and Aviezer whose dedication make Yeshurun the growing place it is today.
Wishing you all good health and a Chag Kasher Ve'Sameach!
Tony (Avraham) Sachs.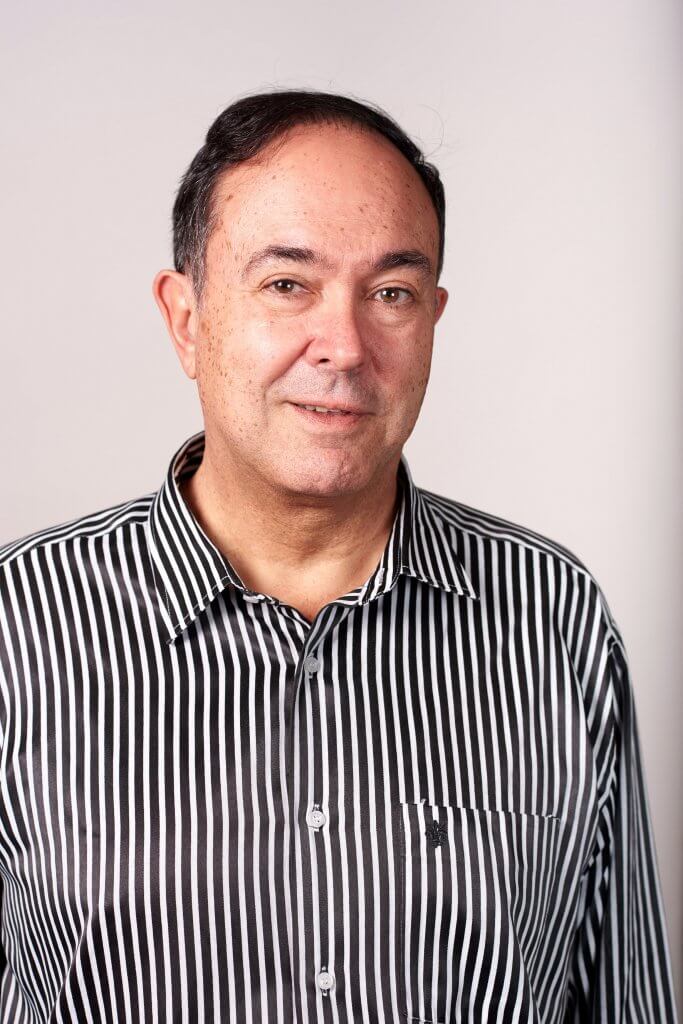 Holidays Reservation Form
Kindly note, this is only a request form. For full reservation please make sure to contact our staff. Thank you!