Purim timetable below
Shacharit Sunday – Wednesday 06:00 & 7:00
Mincha Gedolah 13:25 Sunday – Wednesday
Mincha Sunday – Tuesday 17:35
Shiur Gemara in Hebrew Sunday – Tuesday 17:45
 Maariv Sunday – Tuesday 18:35
Shiurim program see: "Learning"

Friday 
Candle Lighting 17:14
Mincha & Kabbalat Shabbat  17:35
Dvar Torah: Prof. Menahem Ben-Sasson
Shacharit 8:15 
Sof Z'man K'Sh'ma 8:39
Young Minyan 9:00
Tefilat Yeladim 10:00
Mincha Gedolah 13:15
Shiur by Rav Shemuel Herschler 16:40 (Hebrew)
Mincha & Seudah Shelishit 17:15
Motzaei Shabbat & Maariv 18:28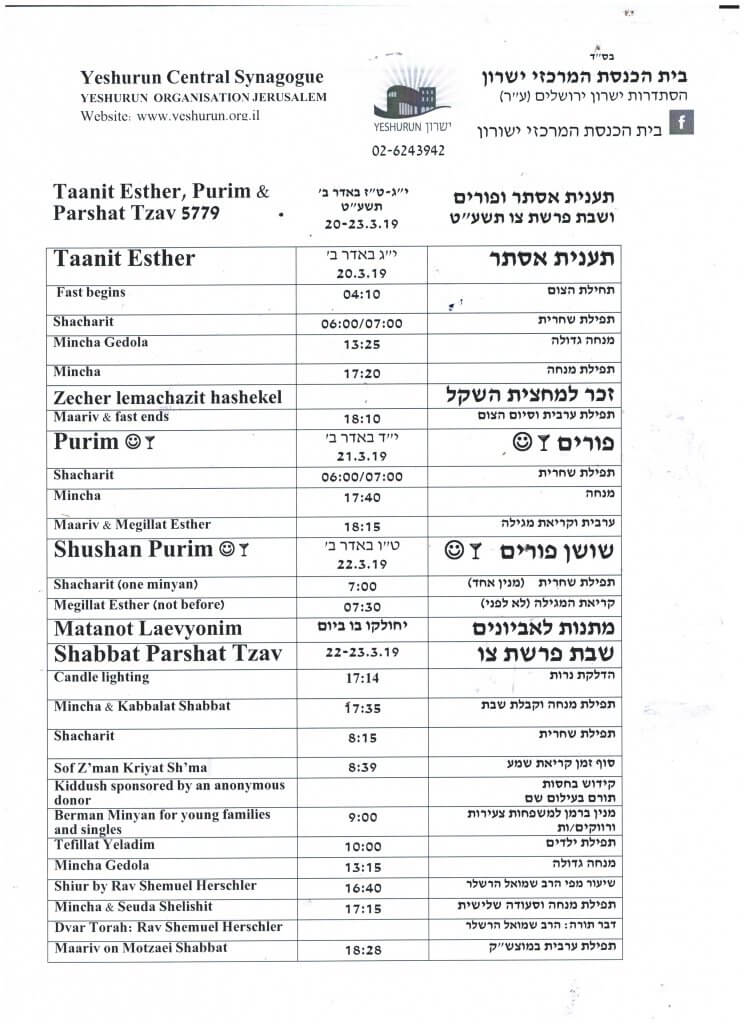 The Yeshurun Central Synagogue, was founded 94 years ago. The Synagogue's doors are open to all Jews, who are welcome to join us for our daily Services, and learning programs. The Yeshurun Central Synagogue is a modern orthodox synagogue. The Synagogue has a unique atmosphere, and the congregation consists of regular members and visitors from Israel and abroad. In Pirkei Avot (The Ethics of our Fathers) Shimon HaTzadik said " The world depends on three things –on Tefilla (Prayer) , Torah Study and Charity. The Yeshurun Adheres to  these precepts. 
Daily Services are held in the main Sanctuary and Beit Midrash, congregants consist of regular members, and visitors from Israel and Abroad. On Shabatot and Chagim we have Services for Young Marrieds and singles up to 35 years old. The Services on Shabatot and Chagim are conducted by the Synagogue Cantor Asher Hainovitz.  The Cantors interpretation of the Teffilot (Prayers) are both beautiful and meaningful. Our learning program in Hebrew for retirees is attended by 250+ students daily.
We have a daily Daf Yomi lecture in English. On Monday morning there is a lecture program in English attended by 350+ ladies. Our Charity fund does not carry any expenses, 100% of all donations is distributed. We hold a Seder for 100 participants, who have no means to make their own seder.
Shalom!
As we prepare to enter into the New Year, it is my pleasure to report on the numerous activities that have been and are taking place in Yeshurun:
Our Chazan Asher Hainovitz continues to lead inspiring services and, like good wine, he gets better every year!  We wish him good health and look forward to hearing him over the Chagim.
The Beit Medrash is going from strength to strength and I would like to thank all those who continue to teach, those who come to learn, and of course our volunteers who help to make it the success it is.
Rav Shmuel Hershler has started a new shiur:  the Daf Yomi Yerushalmi- Masechet Brachot.  Please check our web site for details.
The young people's Shabbat Minyan in the Berman Beit Midrash continues to draw more people who enjoy starting at 9.00 AM – with the kiddie's service taking place at 10.00 AM – and after davening, are able to enjoy the "Kiddusha Raba"!
A big thank you to the members of the Board and also Yissachar, David, Jeannette, Chana, Yitzchak, Micha and Aviezer  and all those whose dedication make Yeshurun the growing place it is today.
Wishing you all good health and a happy, prosperous and successful New Year.
 Please make use of our website www.yeshurun.org.il


L'Shana Tova Tikateivu Vetichateimu.
Tony (Avraham) Sachs.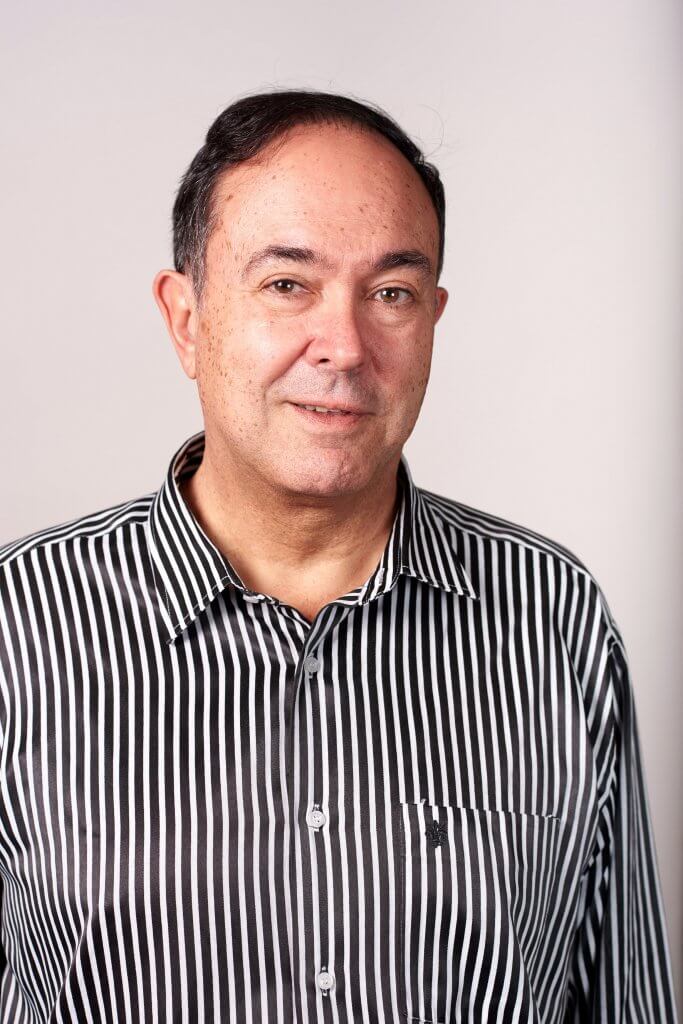 Holidays Reservation Form
Kindly note, this is only a request form. For full reservation please make sure to contact our staff. Thank you!